Studio: Atelier Kob
Genres: Anal, Bondage, Enema, Monsters, Vibrator, Slave
Video language: Japanese
To save the kidnapped women, princess Ashelia (Ashe) learned the whereabouts of the thieves' den.
However, what was waiting for her was a trap…
In the middle of the series, I created this Final Fantasy 12 theme project with a better title.
The realistic textures and hardcore play for you!
Enjoy the high quality movie in 1920*1080 size!
Continuous orgasms, womb collapse, defiled heart and body. Princess beautifully breaks down!
Format: MPEG
Duration: 20:29
Video: 1920x1080, MPEG-2, 19531kbps
Audio: 218kbps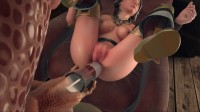 File size: 2.9 GB

Continue reading...