Tech Devil
Administrators
​
Developer:
Team Nimbus
Patreon

Version:
0.1.0.3
Release Date:
2020-06-08
Last Updated:
2020-06-08
Censored:
No
OS:
Windows
Language:
English
Genre:
2DCG, Fantasy, Male protagonist, Female protagonist, Furry, Simulator, Farming, Animated, Big tits, Oral sex, Incest, Futa/trans, Monster, Vaginal sex, Monster girl, Anal sex, Pregnancy, Combat, Management, Gay, Lesbian, Strategy
Overview:​
Cloud Meadow is a hybrid farming sim dungeon crawler, where the player can choose the solitude of a quiet sky high farm or the rushing adrenaline of a raging battle inside abandoned ruins, both of which benefit one another. Experience thrilling turn based combat versus a variety of enemies, using your own raised monsters, allies and an array of skills. Explore a huge variety of locations and hidden areas throughout the ever expansive world of Cloud Meadow. Among the three major towns the player will be able to fully navigate through it to discover quests, new npcs , stories and the lore behind the game. Farm to your hearts content and exchange your produce for goods and services, complete quests and raise your farms production! Breed and discover a large variety of monsters whom you can breed with one another AND breed with!
Changelog:
v0.1.0.3
Updated dialogue containing misleading about farming.
Giev's quest no longer requires completion of the market day quest.
Fixed
Fixed a typo in Yonten's dialogue
Fixed Cloverton music playing during the market day event after leaving Giev's tower
Fixed Construction window having slots tied together.
Fixed save slots showing the floors as 0 indexed instead of 1 indexed.
Fixed Job Board being inaccessible
Fixed Construction window showing the wrong amounts when you don't have enough material for construction
Fixed Construction window not updating visuals when building or upgrade a field.
Fixed sprite sex not receiving lighting as it should.
Fixed inventory window items not being aligned with the top.
v0.03.17 a
Fixes:
Fixed some animations not loading correctly
Fixed some UI window not opening
Fixed the Market Day not appearing
Fixed monsters not loading in the barn
Fixed a bunch of exceptions being thrown throughout the game.

Additions:
Added Female Wolf to combat
Added Female Centaur to combat
Added Male Cat to combat
Added Male Holstaur to combat
Added Kreyton combat overhaul
Changes

Using consumable items in combat will now incur an end of turn
Improved Fio's combat UI
Fio's relevant ability cooldowns will reset when rolling a jackpot (1 ability reset) or rigged roll (all abilities reset)
Fixes

Fixed bugs that prevented progress on the tutorial week story
Fixed tutorial quests playing again each season
Fixed some items missing an icon.
Fixed some items not having a description
Fixed some typos
Fixed some animations not playing correctly
Fixed talking to the captain before talking to Jubelle causing a softlock
Fixed items in some shops showing a quantity of 1 instead of the correct amount.
v0.0.3.16b
Fixes
Fixed a bug with dialogue not reading if statements correctly
Fixed construction window having visual issues on some resolutions
Fixed some z-sorting with the broken down farm
Fixed one of Ev's animations not having it pivot set correctly
Fixed incubator window not closing when adding the egg during the dialogue with Jubelle
Fixed monster emoticons being super offset.
Fixed the the lighting at 7am being too dark
Fixed the calendar showing incorrect information
Fixed farm expansions not loading sometimes
Fixed exiting the wizard tower spawning the player too close to the door.
Fixed not being able to interact with the egg seller
Fixed not being able to interact with Valpongis
Adjusted the placement of stands so they block the player less.
Fixes issues in Vodan's dialogue
Fixed issues in Rekk's dialogue
Fixed Kreyton, Jaero, and Camellia's dialogue having a bug with them.
Fixed Fio not unlocking HDs in the correct spot.
Fixed Jubelle following the player around at the market day
Fixed issues when skipping the tutorial week.
Fixed it raining on the farming day and preventing the player from completing the farming quests.
v0.0.3.16a
Additions
Added Fio X Evan HD scene
Added a small level scroll towards the bottom of the screen when you arrive at an area.
Added recruitment dialogue on day 5 for Jaero, Camellia, and Kreyton
Fixes
Fixed an issue with the texture swap shader
Fixed Evan X Female Centaur not setting itself to use the palette shader
Fixed a quest trying to complete the wrong quest
Potentially fixed not being able to expand the farm.
v0.0.3.16
Additions
Added the Market Day, comes every weekend, and removed rotating weekly merchants and contests for now
Reworked the lighting engine
Added quests telling you that the tutorial day is done and you can rest.
Added an always run toggle to the options menu. When in this mode Shift will bring you down to walk speed.
Changes
Updated the player's sprite model
Updated animation timing on walk cycles
Slight visual changes to the dialogue window
Fixes
Minor dialogue window fixes
Minor weather fx fixes
Fixed drakeheart not being stackable
Fixed a z-sorting issue with the rundown farm.
Fixed Giev not expanding the farm
Fixed being able to open the options menu and interact with NPCs during a level scroll.
Fixed not getting quests after dialogue in some cases.
v0.0.3.15b
Changes
Fio's jackpot should now reset her cooldowns for that ability
Improved party followers and their speed and distancing to better match the player.
Expanded the dialogue with montalvo to explain traits.
Fixes
Resolved issue where units entering combat with a Dungeon buff would cause an instant defeat
Some enemy units were missing a sleeping animation, making them difficult to target
Goldra's Regrouping should appear in the correct position relative to the target
Camellia's missing abilities were restored
Fixed quests not adding and removing correctly.
Fixed some dialogue errors
Fixed the code not unlocking the album when using it from the album
Potentially fixed giev not expanding your farm.
v0.0.3.15a
Fixed some spelling and grammar issues in dialogue
[*]Fixed the foreman following the player around after the dialogue
[*]Fixed Katarina Station NPCs using the old interaction system.
[*]Fixed the ripper fight not working
[*]Fixed the KS captian not returning you to Cloverton
[*]Fixed quests not adding/completing from UI properly.
[*]Fixed not being able to close the sex scene in the album via Q or ESC
[*]Fixed white box in the inventory UI
[*]Fixed Jubelle not being by the door when she should be.
[*]Fixed Kreyton animating in the wrong direction
[*]Fixed issues with cat event dialogue and having it lock the game up.
v0.0.3.15
Additions
Added a new cheat to get all of harvest and groceries, found in the options window.
Added the tutorial week story into the game.
Changes
Goldra NPC combat reworked: attack abilities will trigger Goldra's speed demon test, gaining successive stacks to build combat bonuses.
Dragon attacks apply a minor burn debuff instead of a flat damage bonus
Minor combat bars & buff tooltip improvements
Improved alignment of some HD scenes in the album
Loading screen graphical improvements
Dialogue window graphical improvements
Better 1080p resolution support (some UI will permanently appear smaller than usual)
Better support for ultrawide monitors
Overworld UI frame improvements - new weather indicator & quick save (pull the chain!)
New generic combat sound fx, in place until full combat sfx integration
Combat Health Bar & Buff icon animation improvements
Fixes
Fixed dirt turning into a dead crop
Fixed typos, grammar, and dialogue flow in various dialogues
Fixed Dire & Argontel using old sprites
Fixed some of the objects showing the interact flag
Fixed not being able to turn off certain types of scenes
Ev's Genodriver should no longer be accessible before being unlocked via exploit
Combat floating digits should scale properly to the current resolution
Leaving combat during fast-forward should restore game speed to normal
Fixed female cat and Camellia HDs not setting the gender correctly
Combat unit UI overlapping, visibility & tooltip issues resolved
Max HP Up buff will now expire only after the buff wears off, instead of immediately when the extra health is lost
Yonten's Axe/Hammer throw was showing the wrong weapon sprites
Combat debuffs that can naturally fail (not dodged/resisted) will show a "Fizzle" message instead of "Resist" or no indication
v0.0.3.14b
Additions
Added an evil theme that appears in various plays.
Changes
NPCs have the highlight when you can interact with them.
Fixes
Fixed the game starting at midnight
Fixed being able to open a UI right before cloverton level scroll and having it up the entire time.
Fixed some of the NPCs showing the interact flag
Fixed issues in Pondopulous's dialogue
Fixed issues in Kellam's dialogue
Fixed issues in Other dialogues
v0.0.3.14a:
Fixes
Fixed the code not working in some cases.
Fixed dialogue portraits not rendering when they should.
Fixed the union marine showing up as UnionSoldie
Fixed not being able to talk to the merchant in the monarch inn.
Fixed some issues with quests not triggering/completing correctly
v0.0.3.14:
Additions
Added Fio X Eve HD
Added Cloverton Night music
Added Farm Night music
Added sleep jingles
Added a new interaction bubble for all dialogue
Added introductions to a variety of minor NPCs on Day 1
Fully Implemented farming traits.
Fixes
Fixed some old interactions message still existing
Fixed some missing sprites from the new Monarch Inn
Fixed the mark of creativity and the Drakeheart not having an icon.
Fixed an inconsistency with traits referring to both grade and rank on common traits.
Fixed a bug where monsters would fertilize more crops than they should.
Fixed the outline of the player not matching the player in some cases.
Fixed Camellia's overworld sprite being invisible.
Fixed upgrading fields thinking you are also building a building.
Fixed monsters not returning to the list of monsters if you try to breed only 1 monster.
Fixed passing out on the farm not placing the player in the right spot.
Fixed cat event not triggering correctly
Album Codes
:
Cheat code: Trash Panda

Old codes:
UnlockAllCode = "Mop Diva";
UnlockAllCode = "Scribble Owl";
UnlockAllCode = "Sprites Sprites Everywhere";
GodMode = "What Is Damage";
MoneyCode = "Money Money Money";
CombatCode = "Take Me To Fight";
ResetCode = "Reset";
DOWNLOAD
Win -
MEGA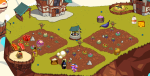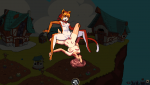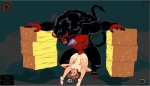 ​
Last edited: