Tech Devil
Administrators
​
Developer:
Darktoz
Patreon
-
darktoz.com
Version:
The Endings(Elorae,Orc Tribe)
Release Date:
2020-02-23
Last Updated:
2020-02-25
Censored:
No
OS:
Windows
Language:
English
Genre:
3DCG, Male Protagonist, Female Domination, BDSM, Corruption, Fantasy, Footjob, Futa/trans, Graphic Violence, Humilition, Lesbian, Mind Control, Monster, Monster Girl, Oral Sex, Pov, Vaginal Sex, Torture, Whipping, Foot Fetish, Cunnilingus
Overview:​
You have been captured by a small group of dark elven hunters, who are bringing you to an old mine, the skull mine, in the ancient mountains where you and other captured humans and elves are forced to dig for ore, gems and artifacts. The dark elves of the noble house Bavaeleth are known for their cruelty and their devotion to the old gods. Recently the house executed all male members in order to gain the favour of Goddess Demorra, the Queen of Pain.
Soon you discover that even most of the dark elves don't know exactly what they're looking for in the skull mine and that some of them are pretty upset with Matron Mother Valyrr Bavaeleth who gave the order to leave their home city for this dwarven mine.
While you're trying to survive this dangerous place full of weird creatures, you also have to please your captors whenever they demand your services and earn enough skulls (the dark elven currency) everyday to buy food and water. Maybe you are losing your mind in this place, maybe the situation is just too much for you, but the longer you are in this place, the more you begin to hear a voice in your head, haunting you when you sleep, calling your name..
Changelog:
Bugfix ep. 2
Known Bugs:
- Gamebreaker Bug when offered a Handjob by Astrid: Picture gets stuck! You can still watch the whole scene, but the Picture won't disappear! If you want to see it nonetheless, you have to save!
I had so much fun creating this episode, just wanted to point that out! I feel like there is a lot that you can miss in the first episode if you don't pay attention and talk to all dark elves and slaves all the time so this time I might be taking some of my time to write a guide, but you guys are called Testers for a reason, right (i know i say this every time
.
Just some short things:
- You can now press "Control (crtl)" to make the Game window disappear. This was requested so that you can actually look at the artwork now without distraction if you want
Quite a nice feature
- The window is now a bit bigger, giving it a feeling of being a bit closer to the action. I love this. I would call it a HD Update
- Because of the Mechanics Update, I don't know if your Savegames will work or not (please report).
First release
DOWNLOAD
Win -
MEGA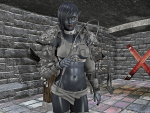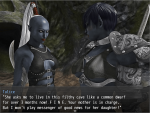 ​
Last edited: