​
Developer:
VersusX
Patreon
- Discord
Version:
0.2.103
Release Date:
2019-12-13
Last Updated:
2019-12-15
Censored
: No
OS
: Windows
Language:
English
System requirements (min)
:
Genre
:
3D game, 3DCG, Animated, Anal sex, Big ass, Combat, Creampie, Female protagonist, Horror, Monster, Oral sex, Parody, Shooter, Vaginal sex
Overview:​
It's a 3D game developed in Unreal Engine 4. It's a pun based on Biohazard (You guessed I think). It's an adult parody game based on the Resident Evil franchise. So you can expect a survival-horror (action-oriented) with infected enemies that will try to get some "relief" on you. The idea was born from our love to the Resident Evil franchise, especially to the 5th part. This one we played for over hundred hours. So yeah add this to our love for hentai games and the result? Bioasshard. But don't think this is just based on the action orientation the franchise got from Resident Evil 5 on ahead. Because the second RE game we love the most is the 2ndone. So there will be puzzles and some scary moments too.

Changelog:
+New+ 103 total new addings including new systems, mechanics, bug-fixing, etc
+New+ A new FX system that reflects damage, dirt and cum on Julia
+New+ Enemy cums now stain the floor, etc
+New+ You can now change the hair color in the Character Customization Screen
+New+ A very early implementarion of the Intermission Screen
+New+ model+rig+materials+textures+animations for the Cerberus
+New+ Fantasy Card System added
+New+ An early implementation of weather effects
+New+ Shootable items (similar to sellable items in RE5)
+New+ A new UI to help you know your current objective. You can toggle it on or off
+New+ A Mission Selector Screen (WIP)
+Change+ The Infection system is now complete including the blue herb mesh totally finished now
+Change+ Julia's shader has been remade to addapt it to new mechanics and simplifying it as much as possible
+Change+ The colors for the Secret Outfit 1 has been tweaked
+Change+ The enemies' AI has been tweaked
+Change+ Tweaked the physics for the enemies's gens a bit
+Change+ Some tweaks to Julia's physics as well
+Change+ Tweaked the enemies's movement (except for the Cerberus) to try and make them rotate instead of popping out in a direction (very WIP)
+Change+ Tweaked the Cerberus' AI making him to walk more instead of only running among a lot of other things
+Change+ Added a new "type of door" to the door system
+Change+ Added a new "type of puzzle" to the puzzle system
+Change+ Added new conditions to drop items to the enemies (like killing a certain number of enemies)
+Change+ Improved the teleport between levels system so we can set exactly where Julia must appear
+Change+ Improved the navigation meshes in the Sewers (this is for Enemies's AI)
+Change+ Tweaked Post-Process Effects and fog effect in the Sewers a bit
+Change+ Unlocking unlockables now display a visual notification instead of just a sound
+Change+ Adapted the Result Screen to the new required behaviours
+Change+ Updated the VXS logo
+Change+ Updated the VXS avatar in the Main Menu/Tittle Screen
+Change+ Some graphics were updated
+Fix+ Cerberus (I don't think we have to add anything here, right? lol)
+Fix+ Exiting the Sewers would cause the outfit to reset for Pigeon Patrons and Free users
+Fix+ Enemy damaged parts like arms and legs now recover in an smoother way
+Fix+ Enemies take around two seconds to start acting after they see/hear Julia
+Fix+ Julia in the Main Menu/Title Screen was stuck playing only one animation and not moving her head nor even blinking
+Fix+ Enemies showing strange animation framerates in the Exterior Area
+Fix+ Enemies stop chasing you when you turn your camera out of them
+Fix+ Some clippings during Infected Cerberus attack animations
+Fix+ An error when trying to rebuild the lighting caused by referenced BSP Brushes
+Fix+ Found and fixed some memory leaks that were happening every frame like some checks for inexistent actors or trying divisions by 0 value
+Fix+ After exiting the Mansion, Julia would clip through the floor on fall to the infinity
+Fix+ The same for some enemies
+Fix+ The rain effect would appear even under roof
... and a lot more.
DOWNLOAD
Win -
MEGA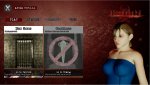 ​