Tech Devil
Administrators
​
Developer:
Arvus Games
Patreon
Version:
1.1.0a
Release Date:
2019-11-01
Last Updated:
2020-02-03
Censored:
No
OS:
Windows
Language:
English
Other Games
:
Roundscape Adorevia
System requirements (min):
CPU: Pentium4 2.0 GHz; RAM: 1 GB; VRAM: 128 MB; HDD: ~2 GB
Genre:
2D Game, 2DCG, Male protagonist, Voiced, Combat, Fantasy, Furry, Futa/Trans, Group sex, Management, Multiple endings, Big tits, Tentacles, Anal sex, Oral sex, Vaginal sex
Overview:​
Below Sunshade
is a
standalone title
taking place in the world of
Adorevia
.
The
Story
is one of the pillars of the Below Sunshade as usual with our games.
Is a story-driven
crafting survival
game, in which you find yourself stranded on a
wild island
full of secrets and dangerous beings.
Your goal is to escape the Island within
30 days
while managing ressources and, if you like: engage in combat, befriend other
survivors
and explore optional areas to find
secrets
.
Changelog:
v1.1.0A
Bugfixes
New Content has been added to 1.0.5 instead of 1.0.2. Oof.
Repairing the ship now consumes energy as stated
Vines can no longer be found. They were an item we added in early dev and have no purpose. There was one instance where they could still be found.
You can now find "Cure disease potions" on the island which are also necessary for one of Idrune's mini quests
Stuck image fixes for Naipei's new scene
Missing image fixes for new Lizagon scene
New Talitha Scene triggers as intended now
Harmony Ending is now easier to achieve since you can now complete Idrune's "Cold" quest
v1.1.0
Hey folks!
Time for an update, this one comes with five new CG Scenes and quite a few bugfixes and polishing.
Also thanks for your patience, took a few weeks longer than intended but we hope you like the new content.
New Content:
Story Mode! No more Day/Time Limit for those of you who want to unlock all the content.
New Talitha Scene! Encounter Talitha in a private situation.
New Idrune Scene! An additional CG Scene path added to Idrune's second sexy encounter.
New Naipei Scene! An additional CG Scene path for the Naipei & Fang ending
New Lizagon Scene!
We hope you enjoy the new content!
Thanks for your support and let us know what you would like to see in Below Sunshade!
v1.0.4
Blackscreen fixed for Idrune's second Scene
Talitha's Quest Path fixed
Visual Indicator now displays every stage for the ship
Talitha bug fixed where her event would play on day 25 even if you haven't met her yet
PC bust disappears as intended after the pond stairs dialogue
Negletic Idrune's hunger now has a big impact on her affection
Building torches in your camp now lowers the chance of attacks at night as intended
Entering the lizard camp no longer triggers the naipei scene unless you actually obtained the sail
Several transfer events fixed in the third temple
The Bat and Minotaur are no longer outside the boundaries in the third temple
Gold/Obsidian Pickaxe crafting costs are no longer swapped
You can now gift items to Talitha
Several smaller QoL changes and fixes
Complete release.
Features
:
Voice Acting
Different Survivors with their own Stories
Full Dialogue Busts
Crafting System
Gifting System
Several different endings
Dialogue Choices & Affection System
Several Kinky Encounters
Improved Movement: Diagonal, Climbing, swimming ...
Many, Many Secrets ....
Survival & Needs
When you add
survival aspects
into your game it's all about the right
balance
. It should never feel tedious and like a grind, instead it should be an element that plays along with the rest of the game.
Instead the game offers a wide mix of various, smaller features that all together create fun and
flexible gameplay
. You want to spend the
new day
gathering resources for a new building but you and Idrune are hungry? You can wait till
night
and hunt more dangerous creatures for better quality food or you split the resource hunt onto two days and play safe.
The game offers several approaches so you can chose the path you want.
DOWNLOAD
Win -
MEGA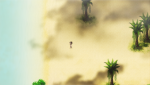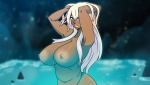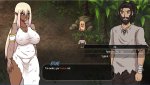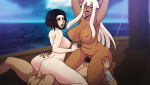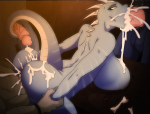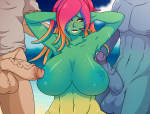 ​
Last edited: