​
Developer:
Taboolicious
Patreon

Version:
Build 25
Release Date:
2020-02-10
Last Updated:
2020-04-14
Censored:
No
OS:
Windows
Language:
English
Genre:
2D Game, 2DCG, Animated, Female Protagonist, Big Tits, Combat, Fantasy, Fighting, Furry, Internal View, Monster, Rape, Side-Scroller, Tentacles, Violence, Dungeon Crawler
Overview:​
Almastriga is a classic metroidvania game where you play as Jane, a cursed woman at odds against a great evil that wants to use her as a vessel to cross into the world's dimensional plane and take it over. However, Jane quickly realizes the curse isn't all bad.
Do you have what it takes to help Jane withstand evil's lure and rid herself of her curse before it's too late?
Installation
:
1- Extract to desired location.
2- Install almastriga_setup.exe
3- Click on almastriga.exe to start playing.
Changelog:
Build v25
-What's new?
Mining Job!
Now you can send Vanessa to the mines to help you gather materials to craft new weapons or upgrade ones you already have!
you gotta find her pickaxe first tho
-Small peek at build 26
Navigation system!!! (map)
nuff said... among other neat Jane moves
Build v24
-Jane:
When jumping to a platform from beneath Jane transitions animations from ducked to idle.

-Valerie NPC
Farm: Extract materials from monsters (sex scenes).
Materials extracted go to Valerie's stock.
Store/stock: Buy materials extracted from monsters.

-Clock
NPCs have a time to be idle, you can interact with them during this time.
NPCs also have a time where they leave their store to have sex.
Cycle (day/night) takes 1 hour real time
NPC sex time table:
Vanessa and Josh--11pm to 12am
Gina and Andy-----11pm to 12am
Jeff and Valerie--11pm to 12am
Karen and Adam----04pm to 05pm
*Other mechanics will work based on the clock (yet to be implemented)

-NPC manager:
Checks what the NPCs are doing, when they are doing it, were they are doing it and for how long they will be doing it.
This is to avoid NPCs omnipresence.

-Text update
All text has been updated so that it doesn't lose quality in low resolutions and improves game performance.

-Quest indicator
When an NPC has a quest, there will be an indicator on their head.

-Enemies
Enemies from library have been removed, all the sex now happens in the farm/extraction, at Valerie's shop.

Bug fixes:
Modifications and bug fixing on quest system.
Jane no longer gets stuck during jump and attack jump animations.
Spider enemy improved (needs further tweaking).
Pop-up platforms behavior-animator conflict is fixed.
UI resetting fixed.
Exterior stage entrance collider was remade.
Some Camera colliders fixed.
Build v21.2
-whats new?
Brand new stage with over 30 rooms to explore, covering a forest and caverns! (and growing)
new enemy too! annoying little critter
-Focus of build
the main focus was just the new areas for more exploration, its still in development and needs tweaking, but it should be very save to explore!
build v18.0
-What's new?
More NPCs with animation, and audio!
14 New shield!
Fist combo improved!
More NPC on NPC action!
-Focus of build
this build focuses mostly on expanding the gear you can craft and make the UI more intuitive, still needs work but we are almost there! not to mention, add more eye candy, if you know what I mean
-Small teaser into build 19
Optimization is the name of build 19, we want everyone and their mom to be able to play the game in any rig!
Build v16.0
-Hub:
New NPCs (Adam & Jeff)
Added VA for:
Karen
Valerie
Added conversation menus to NPCs (only Josh's menus work)
Added base Vendor options (buy/sell), but nothing to buy or sell yet
-Arena stage:
Added treasure chests all over the place, with crafting materials and new weapons
*30 BRAND NEW WEAPONS!*
Small renovation to the whole Arena map (new rooms)
-Gear upgrade/forging/crafting (Josh NPC)
NOTE:
When recieving Josh's quest he will give you 5 free weapons of your choice
-Misc
UI manager modified a bit to ease the navigation in menus
Build v14.0
February-22-2019
-Hub:
Complete Hub overhaul
Hub exterior added
added new room (player room)
-Arena stage:
The flow of the Arena has change
-NPCs:
Josh and Gina moved to new location in HUB exterior
-Added new NPCs:
Vanessa
Alice
Andy
Emma
Each new NPC has dialogue, dialogue portrait and sprite animation
-Jane:
Jane's speed gone up to move a bit faster
-Save system
brand new and still in progress, as it is right now the game only autosaves in the checkpoints
-Bug fixes:
block pause input during dialogues to prevent pause menu overlap
block pause input during dead/gameover screen
block pause input during sex scene to prevent various problems
block pause input during shop menus to prevent Jane from moving around while still in shop menus
January 2019 Build (Build 13):
-UI changes:
Upgrade system has control support.
Quest menu improved.
Fixed a bug in the weapon sub menu, where no weapons where displayed.
-Succubus:
Audio cooldown so it doesn't spam dialogue.
Teleport is now also by time.
Is vulnerable during whip attack.
Will no longer spawn an extra succubus.
-Fixed a bug while picking up a weapon in mid air (jumping).
-Fixed a bug with "drowned" enemy where he falls slowly.
-Visual overhaul, implemented lights for a more moody feel.
Build 10
-Quest system
Added quest system, currently we have 2 quests
Josh: Gives you smith quest which will allow you to upgrade weapons
Gina: Gives you a kill quest, no reward for this at the moment
-Upgrade system
Added upgrade base system
Pike: iron ore
Halberd: crystals
Partizan:iron ore
Glaive: gold
upgrade materials are dropped from enemies
-Stage
Hub:
Shadow demon is now in the library, to trigger scene
Build v9.0
September-19-2018

-Jane
SFX added for several moves
when falling at terminal velocity, Jane crouches on ground

-Gear
New shields

-Stage
Arena:
Ambience SFX added
Tresure rooms added
Portal room finished
Hub:
Gargoyle is now in one of the rooms, to trigger scene
NPC dialogues have voice over

Basement has been added, you can access a new game section from there

-Enemies
Gargoyle:
Animations are all clean and finished
some bugs have been corrected
SFX added to spirit and Brute
Build v8.0
Build v7.0
-Jane
Dash was changed, now its done with RB/R1 plus direction.
When knocked down, Jane is pushed on the opposite direction of the hit.
When killed, the game fades out, instead of the abrupt transition.

-Enemies
Gargoyle fly stance clean.
Parabola attack tweaked.
general fixes to the behaivor.

-Weapons
each weapons deals different damage

-Menu
Menu overhaul

-Misc
Sex scenes: Cum shot, can now be skipped
HPBar also has text display
Checkpoints
Some new platforms added ingame
All polearms animations are clean
Build v6.0
Build v5.0
Build v4.0
Build v3.0
-UI changes
Ingame menu
character menu
inventory menu
exit
*gear change is now done through the character menu
-Ingame Changes
Jane
knockdown animation cleanup
double jump (wings) cleanup
Roxy (ally)
Agressive mode only
Thoggua red variation
parabolic shot
Brute (enemy)
basic behaviour
Spirit (enemy)
Damage UI score
damage numbers
several visual FX and particle systems
Several enemy and general bug fixes
Arena stage
Size increase and more visual assets added
Build 2.0
Build 1.0
DOWNLOAD
Win -
MEGA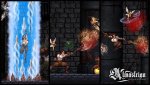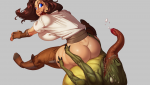 ​
Last edited by a moderator: