​
Developer:
StickJump
Patreon

Version:
0.38 Stable Fix
Release Date:
2020-07-03
Last Updated:
2020-07-02
Censored:
No
OS:
Windows
Language:
English
System requirements (min):
Windows x64; CPU: I3; RAM: 4 GB; VRAM: 1 GB; HDD: ~1 GB
Genre:
2DCG, Male Protagonist, Animated, Simulator, Incest, Groping, Masturbation, Oral sex, Teasing, Voyeurism
Overview:​
You're in really good relationships with Alice, live together and helping each other in daily routine. Once you noticed an opened door to her room, It's strange, because she was always closing it. You decided to check her, but in a couple of minutes your passion went over head... You done some things you are not allowed to do, and you'll pay for it... You hear a whisper voice -"Wh..."; the next second - very loud scream. You managed to escape, but will you manage to return good relationships with her? The life will never turn back as before...
Changelog:
0.3.8 FIX Stable Build CHANGELOG
:
Continued story line with new quests and events
Changed and fixed "What's inside the Box" minigame;
Added animations for all 0.3.7's quest scenes;
Added times of day or how it calls, below moves counter;
Added "Wait" button next to "Skip" button in the MC's room, so now you can wait for 1 move by pressing it;
Added marker on the quests button, so now you'll know when you'll get enough stats for current quest's requirement;
Changed stats gain/loss: now rising Alice's stats is MUCH more easier, but instead "bad" actions and getting caught at the nightime will decrease Alice's stats MUCH more harder than before. Be careful and don't be caught at night or you'll get a deep depression from massive stats loss.
ALSO, from now, Alice stats rising after night actions happens only if she been in "aroused" mood when you finished night phase (you can rise up her mood by doing actions on low "warning" level).
Fixed some bugs;
v0.3.7.1 fix
Fixed and changed some quests;
Completed Gallery (need to get all events again to unlock them in the Gallery)
There was no 32-bit version for the fix.
0.3.7
Added sex scene for stuck under the bed event;
Added main story line quests, and from now, every update will continue the story (PS: one of the quests making you to go outside the house);
Added some scenes for those quests;
Added Gallery with all scenes you seen before;
Added Events Check List, so you can check what events left, what you already seen etc;
Added Quests List;
Fixed some bugs;
v0.3.6
Added cumming scene for new TV remote event;
Added new event for Alice room "stuck under the bed", idea by Xorno (it happens after Alice bend over in the Bathroom scene (on 4th move), then, go to Alice's room on 5th move);
I heard you like playing games, so we added a whole 600MB game inside your game, so now you can play a game while you're playing a game (added a game from my old works). Joystick button in the Living room. If the game doesn't start, try to change the game path to something without spaces, something like "C:\AliceAwakening\", or launch the game with Administrator;
Fixed some bugs
v0.3.5
Added new events sequence (2 stages for this update) for Living Room (to trigger it you need to get default "TV remote" event on 2nd move, new event will happen next move - 3rd (if you have enough relations with her and she have low enough chastity));
Added creampie scene for Bathroom event;
Added "actions" for some rooms that raises Alice stats (those actions doesn't trigger any events or scenes, just raising certain stat once a day for each action), so now you can raise up Alice stats without triggering specific events for it;
Added markers on map that shows where Alice is right now (sometimes you can catch Alice even if there was no marker on the room, but only "talking" events);
Changed some stats gain/reducing for some events/actions;
Fixed some bugs.
v0.3.4a
Finished new bathroom scene: added actual sex and cumming (outside, creampie will be added in next update) scenes (you need to complete night sex scene to unlock it. Also remember: new bath scene shows up only at 5th move counter)
Added new relation-related events for daytime kitchen thighjob and hall jerking-off actions
Changed some stats gain/reducing
Fix-update:

Fixed Hall Alice sit on the floor event. Now everything works and event happens on 3 and 4 move.
Fixed bug when with exactly 60 relations with Alice you have "lock" bug in all rooms.
v0.3.3
Added bathroom event sequence (4 stages, 4 animations including sex), idea by sad and horny;
Added 3rd action for Kitchen;
Changed daytime events appearance, now some events happening relatively to period of day (move counter), changed events chances etc., idea by sad and horny;
Changed item "Watch": now it drops move counter to 0, instead of adding additional move point;
Changed some other things I don't remember;
Fixed known bugs.
v0.3.2
Added 3rd interactions for daytime bath (grind against Alice's butt) and hall (jerk off on Alice) events;
Added "Reset Relations" button in Upgrade Menu, so now you can drop relations down to 1 and get events/scenes that available only for low relations level;
Fixed some little bugs
Fix update
Fixed nighttime "pussy" and sex scenes stats conditions
Added new music for daytime and nighttime because old ones were too annoying
v0.3.1
Added new interactions for Kitchen and Hall daytime events (3th actions will be added in future updates).
Added sex (high Alice stats) and grinding (low Alice stats) scenes for nighttime actions (now first (ass) action button during night visit is available, but with stats conditions).
Changed a little bit balance: stats/points gain for events/actions.
Fixed some bugs.
v0.3.0
Added manual save option
[*]Added daytime moves counter
[*]Added skip dialogues button (CTRL)
[*]Added some interactions for Bathroom ass event by Premium Patron Rayvu (in future updates those interactions will be added for all daytime events)
[*]Added both hands interaction for nighttime ass scene
[*]Changed Living room events appearance (now they will show up after actions, not before)
[*]Added some other things I don't remember
[*]Changed transitions between actions/rooms/scenes. Now game feels much more faster
[*]Changed points gain, conditions, stats gain etc. for nighttime actions
[*]Changed some other things I don't remember
[*]Fixed all known bugs
v0.2.0
Added new nighttime event (Alice "sleep on belly" position and some scenes for it. This position have 1/3 chance to happen and have some conditions: <85 Alice Chastity and same day get any "ass" daytime event before going to sleep);
[*]Added new daytime event in Living Room (Have Alice Lust and MC Courage stats conditions for it);
[*]New features in "What's inside the box" minigame (Upgrade menu);
[*]New dialogues;
[*]Added Skip day button;
[*]Fixed WITB bug that was making only one object type to guess;
[*]Bugfixes and other things;
DOWNLOAD
Old Saves do not work.
Win x64
MEGA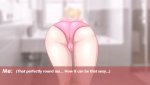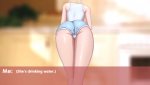 ​
Last edited by a moderator: