Tech Devil
Administrators
​
Developer:
Erik Van Reiker
Version:
Final
Release Date:
2020-02-25
Last Updated:
2020-02-27
Censored:
No
OS:
Windows, Linux, Mac
Language:
English
Genre:
Real porn, Text based, Male protagonist, Adventure, Animated, Interracial, Graphic violence, Voiced, Lesbian, Big tits, Big ass, Anal sex, Oral sex, Vaginal sex, Group sex, Paranormal
Overview:​
An adult Twine game called "Africa Unexplored." It is an adult game that follows an adventurous European on his exploration of an African town in the year 1794.
It contains pornographic images and videos (mostly mp4 files with sound) along with violence (fighting videos from movies) and dark themes in the writing. The porn is exclusively black women with white men.
Developer Notes
:
If this sounds like something you'd like and you are over 18, then please enjoy.

The game will take about 20 minutes before you get to the main porn videos. (Although there is plenty of side porn material along the way.)

It's similar to "Adam and Gaia" and "Breeder's Haven."
DOWNLOAD
All-
MEGA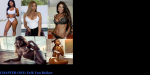 ​
Last edited: